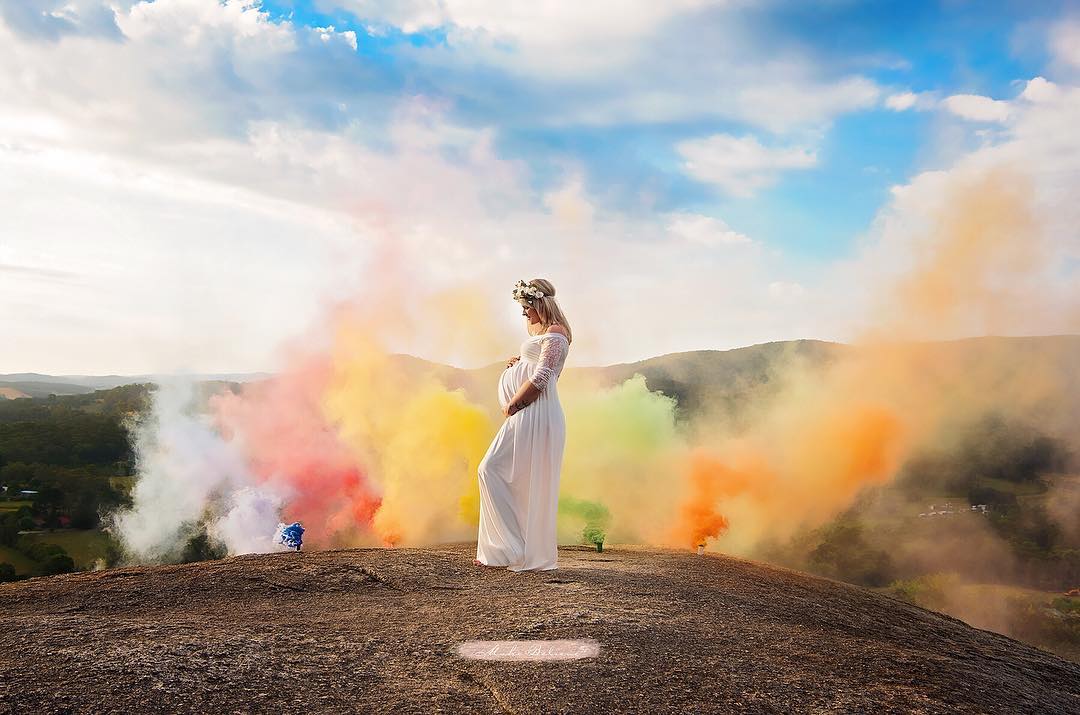 Frequently Asked Questions…
01. Terms of Sale and our Privacy Policy
02. Why is there a flame on the emitter?
When you ignite our smoke emitters, particularly the larger 60gram range, often a visible flame appears.
This is not a flaw or an issue. Simply blow the flame out and the emitter will smoke as usual.
There should be no flame during the continual emitting of our smoke emitters.
Video of this happening is here:
03. Fire Bans
Please do not use our  products on Australia's 'Total Fire Ban' days. Our Emitters burn hot and can ignite dry surroundings and start fires. Please always take refuse with you and depose in the white lined bags we now provide with orders.
Male sure everything is extinguished with water after use to be ectra sure during our hot summer months.
04. Where can I read FAQ questions on diffusion-fx smoke in a can?
18 or 60 gram size?
The 18 and 60gram emitters are identical colours. They burn the same duration: 3-4minutes. The only difference is the output volume. The 18 yields 17m³ vs the 60's 55m³. So the 60gram pretty much puts out 3x the volume of smoke in the same burn time.
Check our instagram feed, as I reference what emitters have been used where or search these two tags:
About Delivery
While I do out best to make sure orders go out the same day they come in via Express Post (if received before 4pm), I can't always guarantee that I am around during the day for the orders (I work a full time wedding photography business also).
Please contact me if you need items urgently for the weekend. There is local pickup options, or I can let you know if I will be able to lodge your order that same day.
Please factor in a few days to be safe for your order!
Are these legal in Australia?
Our smoke emitters are classified as non dangerous goods, they do not hold a DG Class, no permits or licences are required to purchase or use them. They are like using a lit match. However, we do not endorse or supply smoke for illegal purposes – such as public nuisances (football games), evasion or other acts of terror.
These emitters are strictly for the creative industry only. For creatives to produce special effects on location and on set.
CSA carries no responsibility for how customers ultimately use these goods.
Are these toxic?
These are generally non-toxic, producing non-toxic smoke but common sense should be applied! – see first aid measure.
The substance classification of our products is as follows, in accordance with 1272/2008:
irritates eyes (category 2)
harmful to aquatic life with long-term lasting effects (category Cron 3) – i.e. don't discharge into bodies of water!
So basically – don't throw them into water or dispose of them in bodies of water, and try and avoid extensive exposure by models, etc in the smoke for long periods of time. See first aid measure.
Backordering?
We will do our best to keep our items in stock. We cannot gauge demand at this stage so we cannot guarantee items will be in stock.
As such we have turned backordering on when supplies run out. We have live stock monitoring so if the item is out of stock it will alert you that it will be backordered.
It takes us 1-2 weeks to get new shipments in from overseas, and then we have to ship out to you. Factor this in if you require immediate stock for upcoming photoshoots and we are out of stock.
Can I buy these separately?
Initially we are selling these in packs of 5, until we establish demand and what customers are after. We do like the idea of offering individual emitters being sold / packaged together as a pick-n-mix. Selling them in packs of 5 is most economical as we have these sent from overseas, and they are easier to freight as they are already packaged.
Can these be stopped / restarted when lit?
Unfortunately our emitters once they have been engaged cannot be stopped unless you douse in water. Which ruins them for resignation. We have had customers cut them in half to empty the canisters or their powder and re-pot them in smaller containers (such as PVC tubing) for less burn times than the 18 and 60's 3-4 minutes. Please be careful doing so however as the powder is combustible and burns very hot (150ºC+) Always place on a heatproof surface especially if they have been cut in half.
Can we pick these up in person?
Currently Local Pickup is closed and not available. It will be available in the future.
Can you handhold these emitters?
While we post a lot of photos of users handholding our emitters, we don't recommend it. These emitters burn hot (165*C +) and also drop hot refuse as they emit. Like a lit match, it will eventually burn down and burn your fingers.
We recommend if you want to hold them, hold them horizontal so burning refuse can drop away from your hands.
Best use is to create a holder for the emitters our of PVC or such.
** NOTE:
We have had one customer alert us that one of the emitters spontaneously combusted and burst into flames. This was a one off and the first we have heard of such in literally 1000's of emitters that have been used. For this reason, we highly advice against NOT handholding emitters without some sort of holding device.
Do these stain clothing?
Our smoke emitters will stain clothes if the clothing is brought into close proximity with the emitter. i.e. basically touching the end of the emitter. Anything from about 10-15cm away and greater will not stain clothes in our experience.
Think – 30cm rule!
We have a short time-lapse video of us testing this on a white garment and with a red cs60g emitter on our Instagram feed.
So be aware that it can stain clothing etc when it is real close to the output, but standing in the smoke will not stain the clothes in our experience.
Choose white smoke if you are super worried about clothes being stained.
DISCLAIMER: coloured smoke australia or its employees / parent companies are not liable for any damage caused by handling of their smoke products.
Do you have any tips or suggestions for using these?
check this blog post here, for tips on using our smoke products.
Here are some tips we have so far come up with in using any of our smoke emitters…
Colours look brightest in full sunlight
with strong backlight (e.g. from the sun) the coloured emitters turn basically white
if it stops burning, light it again!
dark grey is great for simulating real fire smoke
turn white coloured with gelled flash etc
move the smoke around vs move your subjects
don't use on very windy days
shade and overcast days work well
use someone to help light when using multiple at once
practice with one before you commit to burning them for a shoot
if in doubt about output, staining etc – rethink
don't be a dick
see above
end of the day sunlight (golden hour) works really well
cut the smoke up with trees / sunlight breaking through things
read the FAQ for handling and storage
use a turbo lighter or such (cigarette lighters will highly annoy you especially in wind!)
smoke direction can change frequently with wind – anticipate / move subjects to counter
check subjects DONT suffer from asthma
when holding – be careful of melted plastic – don't hold until the very end – it'll be like holding a match until your fingers burn!
Orange works great for film / fire glow effects
Do you stock Pink or Purple?
We only have Blue and Red smoke emitters.
Often these colours look more purple and red due to lighting, and photo editing (white balance / filtering etc).
First aid measures
Generally: No special measures are considered necessary. If symptoms do occur however contact a dr / physician.
Upon breathing in: move the affected person to fresh air. General inhalation has been not considered an issue, but extensive inhalation can cause irritation and breathing difficulties in some persons.
Upon contact with eyes: unless your eyes actually comes in contact with the chemicals from the units (i.e. you place your eye onto the cartridge itself) you should not have any issues with normal usage. If symptoms do occur from the generated smoke, flush the eye with lukewarm water with the eye/s wide open. If symptoms persist, consult a dr / physician.
Upon skin contact: touching the unit / having the smoke contact the skin will not cause issues. In the case of broken or tampered products the procedure for the constituent chemicals is as follows: wash the skin with soap and water.
Upon Ingestion: If by some means, the chemicals are ingested – i.e. your child finds one and decides to snack on it, rinse the mouth thoroughly with a lot of water and SPIT OUT the water. Then drink at least 1/2 Litre of water and call a dr / physician. Do not induce vomiting.
Basically – unless you are stupid with the product – there should be no health implications with its usage.
Handling and Storing
The burnt residue from the outputted Smoke cartridge (burnt plastic blackened shell) should be treated as hazardous waste. Dispose of thoughtfully like you would household garbage. DO NOT throw away into the environment, or leave unattended.
Be aware of smoking remains. This could ignite surrounds. Always make sure the remains are extinguished and removed when used. These emitters have a burn of >165'C.
The remains can be hot! Please handle carefully to avoid burns to your hands.
Store away from animals and young children. Especially if you use the ignition fuse caps.
Best practice is to place the product on an incombustible base (like inside an old tin can) and check the product has completely gone out before it is discarded.
Keep away from moisture. Our products prefer dry environments, preferably in their original packaging.
How are these shipped?
These emitters have been classified as Non Dangerous, and as such we can send them in express post bags via AUST POST.
How do they disperse?
Wind plays a huge factor especially when using smoke outdoors. We recommend using the smoke early morning or late afternoon when the wind it at it most still or using in a less windy environment. Even with the larger 60gram emitters, the wind can take the output away very quickly and you will lose the effect you are after. Please consider this before you spark up our emitters.
We recommend buying our "smoke matches" to test wind direction and dispersion before committing the coloured smoke.
How do you light these smoke bombs
Our coloured smoke bombs can be lit with a bare flame from a lighter or a match. See this blog post here to check out which lighter we recommend.
The emitter burns down to a melted plastic shell at the end of its burn. Video coming soon!
Orange smoke?
We've heard unofficially, by way of internet chatter, that Orange smoke is generally only reserved for Emergency signalling.
We have not been able to confirm this. Other suppliers of the same products and colours have told us that there is not a problem using orange in the field. But I suggest you use so sensitively, and we will not be responsible if you decide to sit on a coastal cliff line and let of huge amounts of orange smoke.
At the most part our range, including even the CS60g 60 gram emitter doesn't put out a huge amount of smoke and will probably have dissipated quickly. We don't suggest the CS430g in orange for this fact. This is reserved more for army and tactical usage.
Safety measures
Extinguish with water. Do not use Foam, powder or Carbon Dioxide.
What do the colours look like exactly?
The colour emitted from the coloured smoke emitters varies.
The colour is effected by wind and light hitting it. If it is windy it will disperse more quickly and look softer / thinner colour than if there is less wind. Using them on a cloudy day will have a different look to using them in full sunlight. We suggest you try and see what works best for your effects!
** The colour swatches provided are only an indication of the colours available and not the final colour emitted.
Where are you based?
We are based in the Sutherland Shire, in NSW. Most orders inside NSW and select location in QLD and VIC / ACT will receive orders next day via express post.
Who can purchase these?
These are available for over 18 year olds, from within Australia only. We reserve the right to ask to see proof of age (drivers license etc) to supply these items.
Will you offer other smoke products?
We have access to smaller and larger smoke emitters, we aim to add these to the store in the coming months.
Your product looks relabelled?
We get stock from overseas, which has instructions of use in a foreign language. I've made my own ENGLISH label and replaced it.